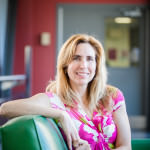 "What really drives me to be involved in both HIV and Hepatitis C work is the intersection between science and human behaviour, and how they impact one another. You can hope to make change in understanding both." Dr. Marina Klein, Professor of Medicine at McGill University and co-director of the CIHR Canadian HIV Trials Network, is doing just that. Her work in HIV and Hepatitis C co-infection has lead to changes in clinical guidelines for treatment and she hopes it can translate to positive changes for people living with co-infection. "Liver disease is still the leading cause of death in this population and we've struggled, despite having increasingly good treatments, to get them to those who need them," explains Dr. Klein.
Dr. Klein was inspired to start a career in HIV research by the advent of antiretroviral therapy in 1996. "I got more and more interested in care of patients who were infected. I really got serious about doing clinical research," says Dr. Klein. As she progressed in her career, HIV/HCV co-infection began to emerge as a serious issue. Now, Dr. Klein is in the midst of an advent in HCV treatment: "We are at a turning point where we were in 1996 for HIV—we suddenly have all these amazing tools. It's really exciting to be involved in it at the moment—it's changing fast, and there is great potential."
Since 2003, Dr. Klein has led a prospective cohort study on HIV and Hepatitis C co-infected patients living across Canada. "It has been a huge undertaking," says Dr. Klein. "We have recruited over 1400 patients and work with 18 different sites in university based centres, and urban and rural community clinics. We are trying to recruit HIV and Hepatitis C confected patients that will reflect the Canadian epidemic and look at the impacts of HIV treatment and Hepatitis C treatment on the health and wellbeing of the person. Ultimately, we'd like to be able to demonstrate how health interventions can really help people who are living with Hepatitis C and HIV."
Supported by CIHR since 2006, the research project crosses many disciplines of research. "We have collaborations in basic science, immunology and phylogenetics," Dr. Klein explains. "We work in traditional epidemiology, and in population based work looking at health determinants and financial impacts of Hepatitis C treatment on the patient." It's a big collaborative project and Dr. Klein gives credit to all the people involved, both researchers and participants. "I wouldn't be able to do all the work that I've been doing without having a lot of support from my co-investigators and the participants who have given a lot of their time."
With its breadth and history, the study now serves as a large database from which collaborators and biostatisticians can draw information. Dr. Klein also points out that it has been an excellent opportunity to train graduate and postdoctoral students in many aspects of HIV/HCV research over the years. A new a Foundation Grant from CIHR will permit her to continue her program of research for the next 7 years.
Dr. Klein is also a governing member of the International AIDS Society, working to provide accessible treatment to those who need it. "HCV treatments are the most expensive treatments that have ever been developed for a human disease. How can we provide these to the large number of disenfranchised people that require treatment? " She recently co-chaired the 2nd International HIV/Hepatitis co-infection Meeting leading up to the Internal AIDS Society conference in Vancouver in 2015 which aimed to address this very issue.
The Canadian Association for HIV Research (CAHR), the CIHR HIV/AIDS Research Initiative, the Canadian Foundation for AIDS Research (CANFAR), the CIHR Canadian HIV Trials Network (CTN) and the Canadian HIV Vaccine Initiative (CHVI) Research and Development Alliance Coordinating Office (ACO) would like to thank Dr. Klein for her significant contributions to our understanding of HIV and Hepatitis C. Her work is part of a larger Canadian research effort that is making a difference in the lives of those affected by HIV in Canada and around the world.