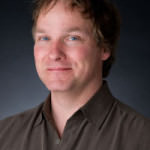 "The beauty of HIV-1 is that it has navigate its way through the cell, it has to touch everything," explains Dr. Andrew Mouland, Head of the HIV-1 RNA Trafficking Laboratory at the Lady Davis Institute and Associate Professor at McGill University in Montréal. It's this phenomenon that makes HIV-1 an excellent model for studying how viruses hijack cell machinery for their own purposes. Dr. Mouland's lab has a long standing expertise in two particular areas of HIV-1 research: RNA trafficking (movement of viral RNA through the host cell) and antiviral stress responses.
"Initially our work began as a basic search for the function of an RNA binding protein and we came to understand that it had an important role in the replication cycle and virus assembly." Results of this research sparked interest internationally and led to new avenues of research into how cells respond to HIV-1 infection. "Right now, we're trying to apply the aspects we've learned over the last decade to study antiviral stress responses to infection and how the virus counters these responses," says Dr. Mouland.
The other main area of Dr. Mouland's work revolves around RNA trafficking—the shuttling of viral RNA through the host and eventual assembly of new viral particles. "We've found associations between RNA trafficking and the ability to influence major host machineries that play critical roles in host gene expression. As the RNA exits the nucleus through the nuclear pores, it actually disassembles the nuclear pore complex; it rips it apart," explains Dr. Mouland. "It also selectively recruits a protein from the nuclear pore complex. This causes a redistribution of the protein as the virus brings it along during HIV-1 trafficking in the host cell cytoplasm, and finally into new virus particles that bud away from the cell. Investigating why HIV-1 would need to do this presents some really exciting challenges!"
Dr. Mouland has hopes that some of the ongoing fundamental research in his lab will ultimately provide important targets for treatments: "If we can target some of the ways in which the virus co-opts proteins or cellular machineries, we could devise strategies or therapeutic molecules that might prevent the dramatic co-opting that's going on," says Dr. Mouland. "There are small molecules and peptides that can block virus production. I'm optimistic that some of the RNA phenomena we're seeing could be targeted by the same strategies."
Through the new Canadian Initiative for HIV-1 Cure Research, a partnership between the Canadian Institutes of Health Research (CIHR), the Canadian Foundation for AIDS Research (CANFAR) and the International AIDS Society (IAS), Dr. Mouland's lab is now applying the expertise and techniques acquired over the past decade to help develop a cure for HIV. "We're doing what we know best — RNA metabolism and fate in the host. We're trying to see whether aspects of the viral replication cycle can influence the establishment of latent reservoirs and reactivation of latent reservoirs."
Like many molecular biologists in the field, Dr. Mouland came into HIV-1 research by using the virus as a model. "I was interested in a particular aspect in gene expression and regulation and I found a highly supportive mentor in Dr. Éric Cohen. He facilitated everything." When it comes to continuing his work, Dr. Mouland says being a researcher and professor drives his curiosity "It's a perfect job — there is always something new."
The Canadian Association for HIV Research (CAHR), the CIHR HIV/AIDS Research Initiative, the Canadian Foundation for AIDS Research (CANFAR), the CIHR Canadian HIV Trials Network (CTN) and the Canadian HIV Vaccine Initiative (CHVI) Research and Development Alliance Coordinating Office (ACO) would like to congratulate Dr. Mouland for his significant contributions to our understanding of the HIV epidemic. His work is part of a larger Canadian research effort that is making a difference in the lives of those affected by HIV in Canada and around the world.